BRINGING HOPE AND WARMTH TO CITIES IN SOUTH AFRICA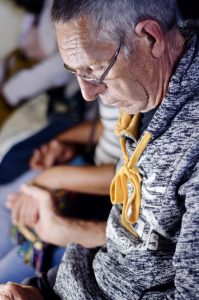 JOHANNESBURG – The Winter HOPE drive, which encourages everyone to collect warm winter clothes, blankets and non-perishable food items for distribution to people in need during the cold winter months, returns to cities across South Africa in June.
Last year more than 4 400 blankets and just over 2 000 beanies were collected via the Winter HOPE drive. Approximately 7 000 shopping bags with clothing items and non-perishables were gathered, and more than a 1 000 people were provided with shelter during the campaign.
Winter HOPE is a partnership of giving, which has grown in reach and influence over the past 19 years. This year's partners comprise a national footprint of organisations, which is led by MES (Johannesburg, Kempton Park, Port Elizabeth, Cape Town), PEN (Pretoria), Towers of Hope (Bloemfontein) and the Denis Hurley Centre (Durban).
"Working together with key role-players in the industry of social upliftment allows us a much greater reach to better serve prospective clients within impoverished and destitute urban communities, while building relationships with fellow partners and the public," says Rev. Hannes Windell, chairman, Mould Empower Serve (MES) board.
PEN (Participate Empower Navigate) has for the past 19 years worked passionately as a Winter HOPE partner to ensure being cold during winter, "will not restrict our communities to reach their potential," says Janthinus Schrage, senior manager: marketing and communications, PEN. "It's not just about extending services to vulnerable communities, but asking ourselves what blessings we have and how we can contribute towards making winter a bit warmer to those who are stuck in its grip. A blanket and a jacket is just an entry point, but it can unlock a new world to someone who seeks employment, fulfilment, transformation and personal sustainability," he says.
"It has been a tremendous privilege to be a part of this national movement and to experience how it gathers more and more momentum every year! We believe that it's in our being together – both non-governmental organisation (NGO) and vulnerable people – that we discover how to journey through the suffering cold of winter together," says Rev. De la Harpe le Roux, managing director, Towers of Hope.
This year welcomes to the campaign the Denis Hurley Centre that will be the coordinating partner for Durban. Raymond Perrier, director of the centre, is excited about joining the campaign. "We're a centre committed to bringing together Christians of different denominations – and indeed people of all faiths – to serve the poor. So we're especially excited at the opportunity for ecumenical witness that this campaign brings."
Rev. Windell, concludes, "On behalf of all participating organisations, I would like to encourage you to help strengthen our hands this winter by getting involved in social relief and upliftment, where it is needed. Together, we can make hope a reality."
• For more information about the specific needs of the campaign and the various drop-off points, please visit, Facebook (@winterhoop); Instagram (give_hope_in_winter), or contact Aloma Swanepoel at winterhoop@mes.org.za or on 011 725 0001.
END